Discussion Starter
·
#1
·
Went to the range yesterday - with MY dad! He's about 70 but doesn't look his age, or act his age. He's never shot a handgun and is terrified of guns. I asked him if we could go shooting - told him I wasn't trying to sell or convince, just fun. He agreed!
He gets to my house and I have the bag already packed with various toys. I took my P-22 as the appetizer, and also took a family of 9's and the HP 40.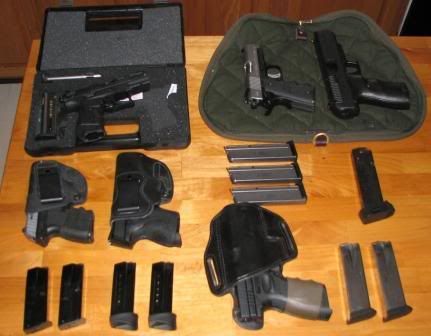 We spend about half an hour at the kitchen table first, going over safety, grips, stances, how they work, range rules, and what my role would be at the range. He said he was ready to go so off we went.
It was a great day. There was another family shooting there, doing about what we were doing - family training! It was a agreat opportunity to demonstrate range rules, etc. He did really well. Once he forgot, and I didn't notice, his hearing protection. After shooting that one shot, he started to turn to hand me the gun to fix his ears. I was right there to grab his shoulders and not let that happen! Fixed the ears and off we went for more shooting.
We had a blast! Next time we'll take the long guns. This was a big deal for my dad - he is/was terrified of guns but he trusted me enough to give it a try. I feel all sorts of great we got to experience this together.
That's my story and I'm sticking to it!