Discussion Starter
·
#1
·
I finally found those pictures of my black bear that I shot with my .40 caliber S&W Hi-Point carbine in the spring of 2007. This puppy took me 12 hours of work to haul out by myself over half-a-mile back to my truck through steep craggs and dense forest on the Kenai Peninsula. One of the best trips of my life, though, despite the hard work. I shot this sow at eight yards from a tree stand, and I continued firing (more do to adrenaline then to a need to keep firing to bring down the bear...she would have died were she fell after the first two shots, but, eh, I guess I'll just have to sew up the seven-eight bullet holes in the hide... :embarrassed2
to ensure she wouldn't get up and run. I had that happen with my first black bear, and I swore I wouldn't let it happen again. She was about 5 feet 3 inches long from the tip of her nose to her tail. She was quite tasty (my family made sausage and burger from the meat...mmm...
), and I still need to get around to tanning the hide, amongst the other hundred things I need to do. Someday, I'd like to take my 4095 carbine and see if I can get a brown bear with it... :devilsidesmile: :devilsidesmile:
...just kidding...or am I? MUHAHAHA... :devilsidesmile:
...actually, I might just do that...perhaps I should change my forum name to "Crazy Alaskan Hunter with Hi-Point"...
...Well, to all those naysayers out there against Hi-Point firearms, here's some proof that they are truly awesome guns at an incredible value. Without further ado, here's the sow that proved the point: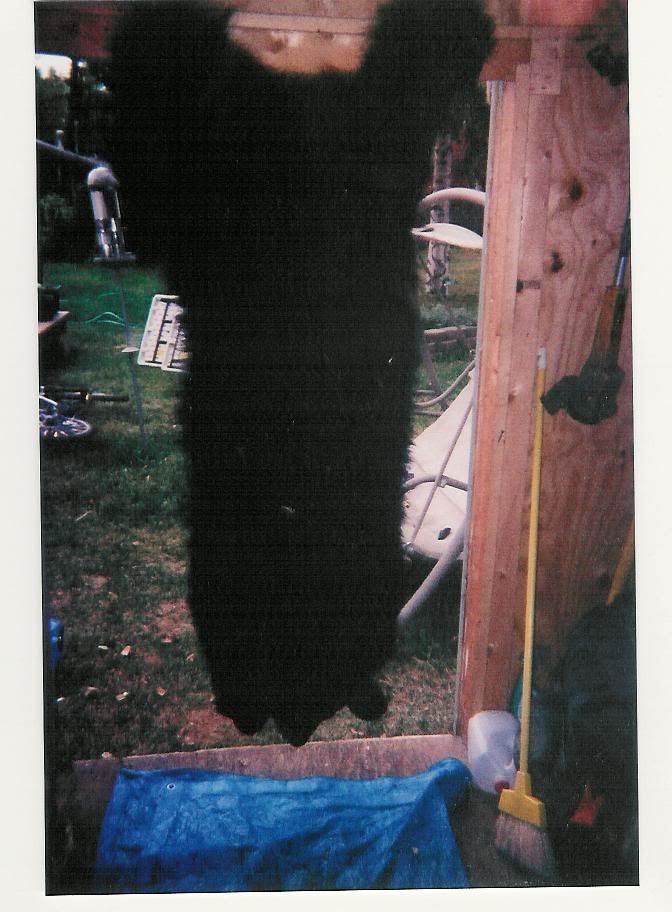 Thanks for viewing, folks, and I'll see you guys later!
Cheers!
Jag 8)