Discussion Starter
·
#1
·
First off, I think Hi-Point is serious about the 4595 carbine now. Just read the bottom of this paper that came with my carbine.
I find that interesting. Now, I had a pretty good day at the range today. It was pretty cold at 38 degrees F. There was an occasional mild breeze, no more than maybe 5 mph. I had the iron sights installed on the carbine, and had to sight it in first. All the ammo I shot today was with my reloads, so I'm surprised there weren't any misfeeds or jams of any kind out of 145 rounds fired today.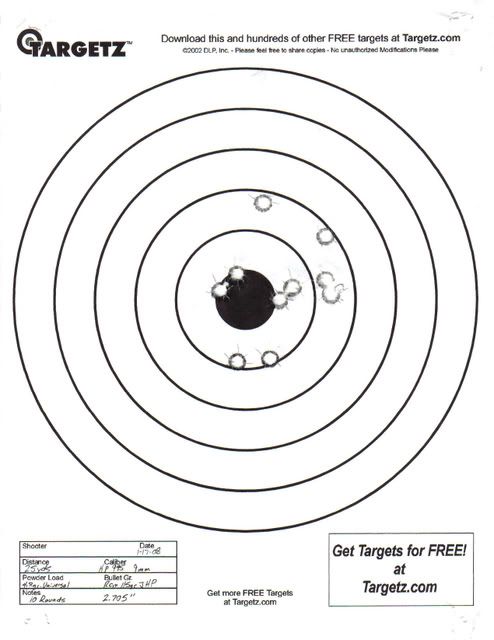 The first target shows what the 115 grain Remington JHP bullets did at 25 yards. This was the better of two groups fired with this load at this distance.
This second target shows a ten shot group at 50 yards using the 115 grain Remington JHP reloads. I wasn't too impressed with this group. It could be the load, the bullet, or the iron sights, as I had a hard time getting a decent sight picture. That front sight post is really thick, making it hard to get very precise.
I decided then to return to 25 yards and try my reloads using 125 grain LRN bullets I cast and sized/lubed myself. These bullets are made out of wheelweight alloy and lubed with Jake's Purple Ceresin bullet lube using an RCBS LAM II sizer/lubricator with a homemade sizer heater. The bullet mold is the Lee 6-cavity 356-125-2R mold. I sized these bullets to .356", making them .001" larger than bore diameter for a snug fit.
This is one of the cast load groups shot at 25 yards. I think the barrel was also getting settled in after I cleaned it from shooting the jacketed bullets.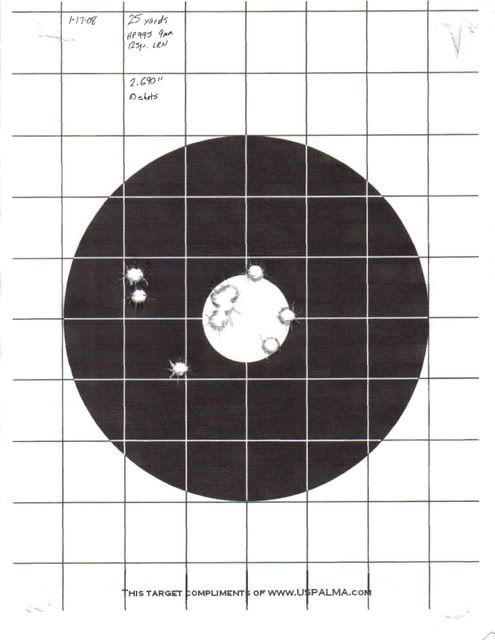 I was pretty pleased with this target, also shot with the cast bullet load. If it weren't for the three fliers on the left, it would have made my day.
All in all, I'm pretty pleased with the performance of my new 995 carbine. Since I came home, I stopped by Wal-Mart and bought new scope rings to mount my scope. Next time out, I'm going to try the same loads and see if the scope shrinks these groups a little. Perhaps I may try some 100 yard groups if it shoots well enough. Not bad for a cheap carbine, especially when it functioned 100% for all 145 rounds.
wizard93