Discussion Starter
·
#1
·
Decided to go to the range today to try out the C9 I purchased yesterday. I took my Ruger P85 along for comparison. I put 100 rounds through each. The Ruger got a few rounds of SMC and 90 rounds of Winchested White box. The HP C9 got 10 rounds of WWB, 40 rounds of Remington, and 50 rounds of Blazer Brass.
For the record, the C9 is not at comfortable to shoot (to me) as my Ruger. But it is more comfortable than my Beretta 380. It tends to wear on the area between my thumb and forefinger. I wonder if installing one of those Hogue grips would help with this?
Anyway, I had 2 rounds out of 100 fail to feed. One with the WWB and one Blazer round. (no fails on the Ruger) But this a brand new gun. I was shooting 5 rounds at a time with 2 different clips.
I was not shooting well today, and had a problem with my safety glasses fogging up when i first started.
So, first target here is 40 rounds at 5 yards...
Next target is 40 rounds at 9 yards...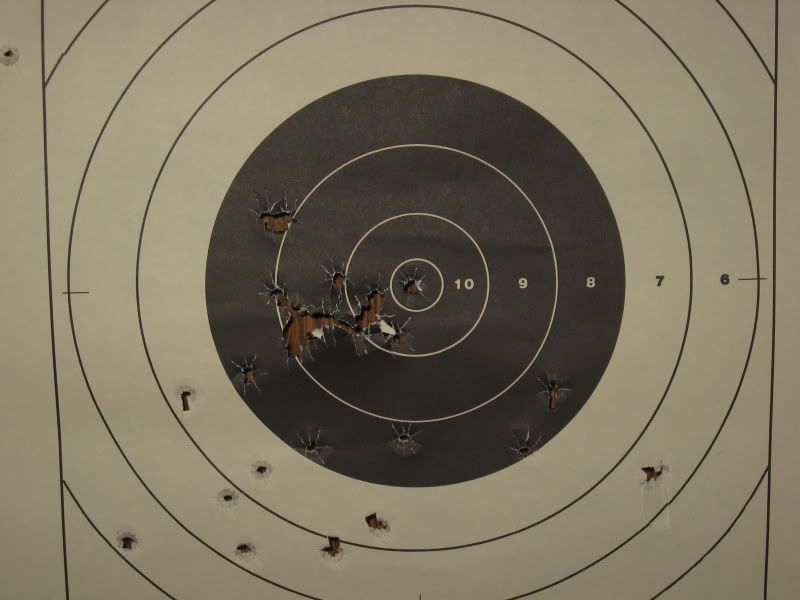 Last target is 20 rounds at 13 yards...i was really bad here...but everything did hit the paper...
I guess I need a little more time to get comfortable with the gun and dial in the sights...i was shooting mostly left and down