Discussion Starter
·
#1
·
First off, I am going to get my hands on a digital camera as soon as I can.
But I grabbed some pics of the keltec website for those who aren't familiar.
That said, I bought 2 new firearms this weekend.
Stopped by my favorite shop Friday and was immediately told by one of the guys there "I got a present for you!" He went in the back and walked out with a Keltec Sub-2000. It was used, but in great shape. Got it for $199. That and a 30 round glock mag $230 out the door. It really was a present. They're usually $330, saved myself $100 & got a 30 round mag with the deal!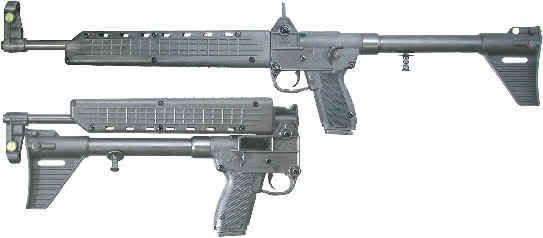 Saturday my girlfriend decides she wants to go to Trader Joes :roll:
Now, I really don't like taking her there because, as small as the store is, she can spend 2 hours looking at the fruit and cheeses there.
On the way there she says "Hey, wasn't there a gun shop near here you wanted to check out?"
I say, "Oh yeah" and reached up into the CD holder in my visor & pulled out directions (I like to be prepared).
So we go in, and immediately I see a used (again in great shape) Keltec SU-16a, complete with scope rings and sling mount, two 10 round mags and an aluminum 30 rounder. It was $440 so I asked how firm is that?
He threw in a Magpul 30 rounder & I ended up paying $430 total.
I think I did pretty good! :lol:
Only went through 10 rounds in each so far (was in my girlfriend's backyard & it was raining). But so far so good!