Discussion Starter
·
#1
·
DIBS!!!
Shipping container houses have been around for a while; these focus on those wanting to get off the grid.
All Terrain Cabin: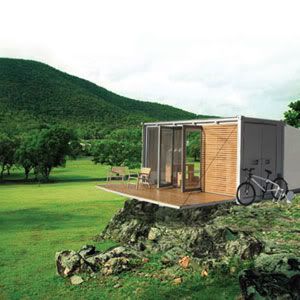 Canada's Bark Design Collective built the All Terrain Cabin (ATC) as a showcase for sustainable (and Canadian!) ingenuity. The small home is based on a standard shipping container, and is said to be suitable for a family of four, plus a pet, to live off the grid in comfort and style.
The cabin folds up to look like any old shipping container, and can be sent via rail, truck, ship, airplane or even helicopter. When you're ready to rest your bones, the cabin quickly unfolds to 480 square feet of living space, with a range of creature comforts.
The Ecopod: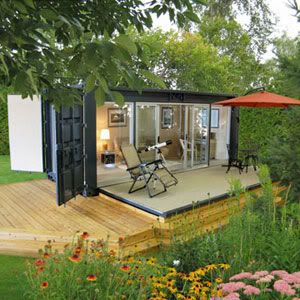 Another container home designed for on- or off-grid living is the Ecopod. Made from a shipping container, an electric winch is used to raise and lower the heavy deck door (power is supplied by a solar panel). The floor is made from recycled car tires, and the walls have birch paneling (over closed-cell soya foam insulation). The glass is double paned to slow heat transfer.
The Ecopod can be used as a stand alone unit or with other structures. It is designed to minimize environmental impact.
Bug out in style.
-'bridge