Discussion Starter
·
#1
·
This is what I carry in my GHB in the event I have to make the 20 mile trip from work to home on foot. I have a simple stainless camp cup, found at Wal Mart, Esbit stove and two Bic lighters that stow inside the stove.
In the next couple pics you will see the larger stainless Mess Kit I bought earlier this year from Wal Mart. I keep this kit in the main BOB, it's small enough to go into a pack yet large enough to make a pot meal for our family of four. It can be used with the Esbit stove, can sterno, alcohol burner, tuna can burner or regular camp stove.
This is what everything looks like all set out for the pic.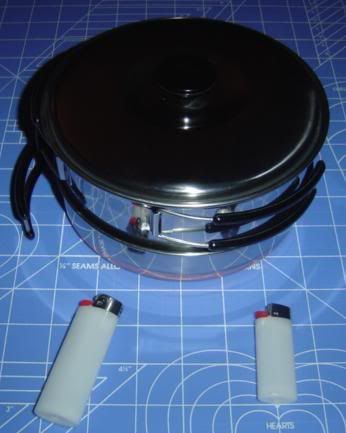 This is the whole kit stowed and ready to be packed up.
The Mess kit has a draw string bag for storage and it helps keep the soot off other stuff in the BOB. I plan on adding two scout style stainless mess kits to the girls packs soon because they want to have their own personal mess kits...LOL!
rimfirehunter