Discussion Starter
·
#1
·
And yes, I "borrowed" Onepoint's color scheme. Because it is freakin' awesome. And I needed something other than another damned black gun to break up the monotony of my ARSEnal.

I bought it used for $150 out the door about 3 weeks ago. Pretty bare-bones when I got it and showed heavy use. I called Hi-Point telling them I got a used 995 and wanted to buy a scope rail for it. The awesome woman on the phone told me to send in my new batch of "machined parts" for inspection, since, as she put it "people who sell guns usually do so for a reason." She assured me that all it would cost me was shipping via UPS ground ($16 from AZ) and they'd make sure it was in good working order. Lifetime warranty and all that.
I got it back today, in a factory box (I had shipped it to them in a skateboard box), complete with scope rail, sling swivels, sling, owner's manual, multi-tool, trigger lock, and some other stuff I'm sure I'm forgetting. I also got a note telling me what they fixed and/or replaced: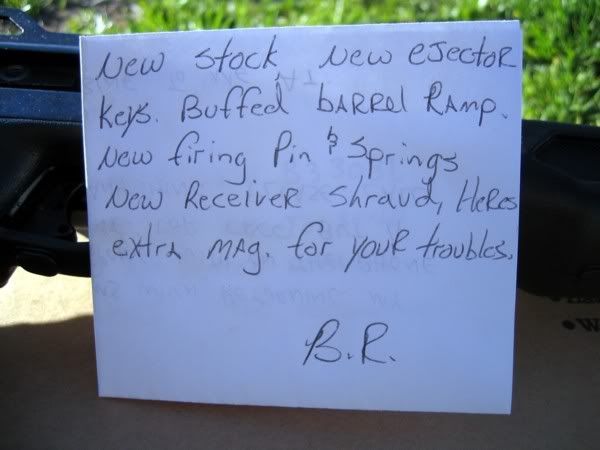 Needless to say, I'm VERY pleased with this company.
While the new stock they replaced the old one with was much more "sturdy" (or more accurately, less "bendy/flexy") than the original, I've been prettying up a new ATI stock for it while it was off being fixed. Replacement was fairly easy and intuitive enough that the few glances I took at the ATI installation instructions a week and a half ago got me through it. Took some jimmying, but I got it to work with no Dremeling or drilling.
The stock (purchased hassle-free through milsurpstuff.com - THANKS FOR THE AWESOME FAST SERVICE AND GREAT PRICE) was finished with Krylon Fusion Camouflage Khaki spray paint. If I had more money to throw at it, I probably would have done it in Duracoat's Desert Mint, but that's always a possibility in the future.
I decided to leave the front sight on for now, though it serves no purpose, other than making the weapon look a little better to me than just having that naked pencil barrel out there. I think a Moerse-Lekker shroud is next, then most likely a bipod.
Can't wait to shoot this thing.
Been lurking the site for a few weeks for ideas and info, y'all are great bunch of folks.